Pins
Adjustable Clevis Pins

A quick replacement pin, the Adjustable Pin features a series of holes making it adaptable to varying lengths. Use the diameter that fits your application and cut off the excess length. Easily replaces bolts, cotter pins or rivets on all types of equipment.
Available as an assortment
Hitch Pins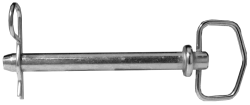 Hitch Pins feature high shear strength material, easy swivel-grip pull ring and a high tension hairpin cotter. They are made of a medium carbon steel - hardened to a Rockwell core hardness of Rc 25-34 and are zinc plated with a yellow dichromate dip for corrosion resistance.


Lynch Pins

Lynch Pins are designed to be one of the finest quick disconnect fasteners available. Forged for maximum strength, the rugged pins are zinc electroplated and dichromate dipped for corrosion resistance. The design of the self-locking ring allows the pin to be securely held in place and provides an easy grip for quick removal.


Pins are manufactured of 1010 steel with a Rockwell hardness of Ra 50-60. Rings are of hot drawn spring steel with a Rockwell hardness of Rc 47-48.
Hairpin Cotters

Hairpin Cotters are reusable and ideal for quick assembly and disassembly applications. They are available in high quality, zinc plated 1050 spring wire for strength, security and corrosion resistance.
Available as an assortment

Wire Tolerance: +/- .002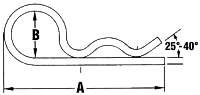 Dimensions are nominal.
For reference only.
| | | | |
| --- | --- | --- | --- |
| Use On Shaft Size | Wire Diameter | (A) | (B) |
| 1/8 | 0.030 | 19/32 | 3/16 |
| 3/16 - 1/4 | 0.042 | 15/16 | 1/4 |
| 1/4 - 5/16 | 0.059 | 1-1/8 | 1/4 |
| 5/16 - 3/8 | 0.073 | 1-7/16 | 3/8 |
| 3/8 | 0.120 | 1-29/32 | 13/32 |
| 3/8 - 7/16 | 0.092 | 1-7/8 | 5/8 |
| 1/2 - 5/8 | 0.120 | 2-3/8 | 23/32 |
| 5/8 - 3/4 | 0.148 | 2-11/16 | 25/32 |
| 7/8 - 1 | 0.178 | 3-3/4 | 1-1/32 |
| 1-1/8-1-1/2 | 0.243 | 5 | 1-7/32 |